Back to List
News
July 6, 2017
Alexander and Marjorie Hover Foundation Grant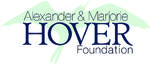 In June, Clarion Concerts of Columbia County, Inc., learned that $2,000 would be coming its way as the recipient of a grant from the Alexander and Marjorie Hover Foundation, Germantown, New York.
This grant supports the world premiere commissioned work of African American composer Valerie Coleman. Imani Winds, an American wind quintet based in New York City, will perform the work at "Storied Nights," the opening concert of the 2017 Leaf Peepers Series at Saint James Place, Great Barrington, MA.
Coleman, a flutist with Imani Winds, has been described as "a distinct voice in a new generation of African-American artists who bring their cultural heritage to classical music. Her compositions have been widely praised: "Umoja," an original "groove-based" composition, was chosen as one of Chamber Music America's 100 Great American Works.
"We're thankful to the Hover Foundation for this significant contribution to our programming," said Clarion Concerts President John Bevan. "Those who come to hear Imani Winds and this wonderful work by Valerie Coleman are certain of a memorable experience."