Back to List
News
July 14, 2017
Interview with Valerie Coleman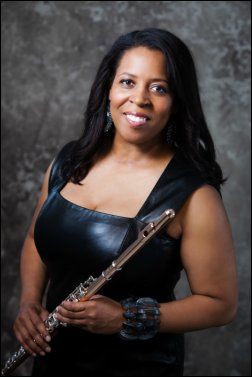 Valerie Coleman - from whom we have commisioned a new work for our September 9th concert - has been talking about women composers at the Chamber Music Northwest Festival in Oregon. Click here for a clip of her interview.
Coleman worries that young women composers of color aren't finding their way into classical music in part because they don't see people like them in programs and performances. She thinks it's as much a lack of outreach as it is a lack of opportunity.
"There's been pressure placed on more established opera houses and chamber music societies whether they accept this notion that women composers can be part of their vernacular," says Valerie Coleman, a flutist and composer. "And rightly so."
The problem is especially acute with women composers of color, she says. "There is a tone of frustration with composers of color now over the futility in writing music, knowing that their works may not be performed in more notable chamber music series. The big struggle that all institutions face now is with building audiences and donor bases, breaking that glass wall that prevents folks of color from coming into the concert series."